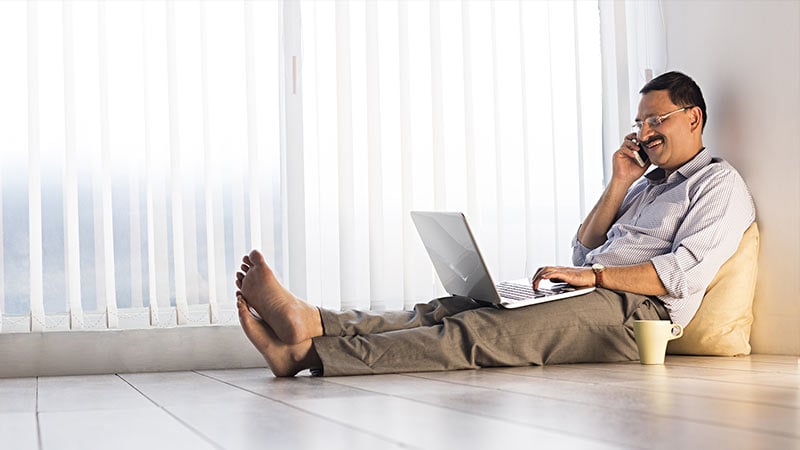 The Covid-19 outbreak has had unprecedented effects on individuals, organizations and economies. In India too, organizations across sectors have had employees stay at and work from home to avoid risking infection. With the pandemic expected to continue for some more time, it is important for people to adopt few methods that enhance one's efficiency as well as well-being. As we get used to this new norm, here are few best practices to make the best of your virtual office days.
Do not give up routine
With the responsibilities of work and home while you work from home, finding a balance can be tough. However, it is important to establish a work schedule that you can follow regularly and practically. Choose a designated area of your home to create a workspace where you can give undivided attention to work tasks and treat it as a regular office space. Take necessary breaks and be sure to log off once your workday is done. Also, try to not schedule meetings/calls before or after your workday just because you are assumed as "available" at all times.
Allot time to unwind
Employees should be encouraged to take small breaks to unwind during the day or after work, with activities such as meditation, home workouts or household chores, which is therapeutic for many. Divide tasks around the house and avoid overworking; decoupling your mind from work is important to destress in these times. Some best practices should and can be implemented at an organizational level. For example, at Visa, all employees are allotted a time slot during the day to step into what we call a 'Silent Zone' wherein employees do not schedule any internal meetings or calls during this period and help with the household tasks.
Share ideas & collaborate
In this age of working remotely, there are multiple apps and tools for seamless digital transition to working from home. This creates an opportunity for cross-functional collaboration among employees across different geographies. The organization should develop a collaborative environment that is built on trust and camaraderie between employees, to come together, brainstorm and benefit from ideas and diverse perspectives.
Embrace regular communication
Communication is extremely important when an entire organization operates remotely, and a few ground rules should be set. Establish the right cadence within and between teams as too much information, and even too little, are harmful. In scenarios like now, navigating how to work remotely with your team can be quite complex and people should take time out to check in on each other. Video conferences and phone calls should be embraced across the board.
Reach out to the assistance centre for technical issues
Working efficiently from home is highly dependent on technology and the tools at one's disposal. Apart from being equipped with laptops and connectivity, one should make use of collaboration techniques to operate smoothly. Technical issues are inevitable and must be resolved quickly. Employees should be able to immediately reach out to a helpdesk and get themselves set up remotely. If these resources are in place, even new joiners who join the workforce remotely, can be set up and hit the ground running from day one, as Visa has been doing in these times.
Prioritize employee well-being to boost morale and productivity
As managers and as colleagues, it is important to keep others (co-workers, agencies and clients) motivated and little gestures go a long way. Picking up the phone simply to check on someone's mental and physical health or even starting formal meetings with a little banter is important. Regular engagement like a Friday virtual happy hours and game time are fun ways to make employees feel connected and engaged with each other. Consequently, it also adds to productivity and positivity.