Indian travellers are planning to spend USD$4,501 on their next trip
09/05/2015
Increase in travel expenditure by Indians, higher than APAC and global counterparts
Australia is the favorite travel destination, followed by USA, Singapore and UK
Indian travellers are likely to spend around USD$4,501 on their next trip, a significant increase over the last couple of years, from USD$2,823 per trip in 2013 to USD$3,106 in 2015, revealed the Visa Global Travel Intentions Study 2015 [1]. This increase in expenditure is significantly higher than their counterparts in the APAC region and across the globe.
The increase in spending is directly correlated to their preference for taking long haul trips, with an average trip length of 9 nights. Australia is the favourite destination for Indian travellers, followed by USA, Singapore and the United Kingdom. The top drivers for the choice of destination are activities available to engage in (75 percent), and familiarity with the place (70 percent).
The 'opportunity to bond' has been identified as the main reason for travel by 1 in 2 Indian travellers. Those in the age bracket 36-44 years are also more likely to travel to "escape" from their hectic and fast paced lives.
Mr. T.R. Ramachandran, Group Country Manager, India and South Asia, Visa, said: "Apart from giving us insights into the behaviour and preferences of the Indian travellers, Visa's Global Travel Intentions study, also helps us to understand how aspirations, increased incomes and accessibility have impacted the way Indians travel. The findings highlight the importance of technology and mobile devices, at every phase of travelling - right from research to planning, booking, and scheduling the itinerary at the destination."
Indian travellers use social networking (41 percent) and travel review sites (39 percent) during their trip to stay connected and informed about their destination, with 83 percent looking up this information on their mobile devices. During the course of travel, Indians love to share their experiences in real-time, with 93 percent of them connected online and 82 percent using social networking websites, and Facebook being the most popular portal.
While Indians are spending more per trip, they also routinely bring back about 12 percent of their cash from their trip, which is an average of USD$242.
"Seventy percent of Indian travellers are using payment cards to pay for their travel bookings and 98 percent of them carry their cards on holidays. However, we're still seeing a considerable amount of cash usage at the destination so there's a real opportunity for Indian travellers to realise the convenience, security and wide acceptance of payment cards when they're abroad," Ramachandran added.
Travel outlook remains positive over the next two years as Indian travellers intend to take an average of six international trips in a year, as compared to five trips in the last two years.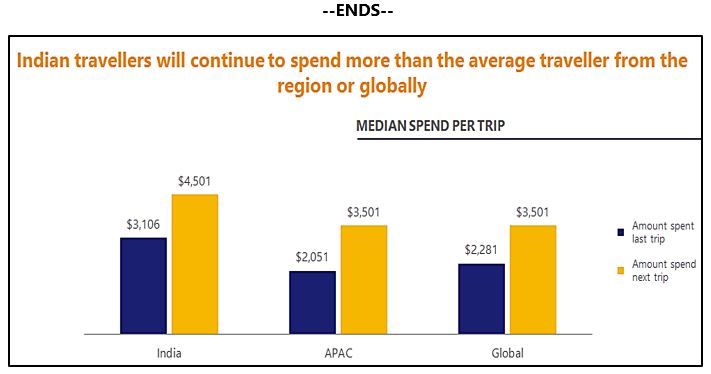 ---
| | |
| --- | --- |
| [1] | The Visa Global Travel Intentions Study was conducted with 13,603 travellers*, aged 18 years and above across 25 countries in January and February 2015 commissioned by Visa to Millward Brown. |
About Visa
Visa is a global payments technology company that connects consumers, businesses, financial institutions, and governments in more than 200 countries and territories to fast, secure and reliable electronic payments. We operate one of the world's most advanced processing networks - VisaNet - that is capable of handling more than 47,000 transaction messages a second, with fraud protection for consumers and assured payment for merchants. Visa is not a bank and does not issue cards, extend credit or set rates and fees for consumers. Visa's innovations, however, enable its financial institution customers to offer consumers more choices: pay now with debit, ahead of time with prepaid or later with credit products. For more information visit www.visa.co.in.