Visa Survey: India's affluent are in their mid-30s with an average income of INR 1.5M
07/01/2015
8 in 10 affluent Indians are married, amongst the highest across the markets surveyed
8 in 10 believe their personal and household income will increase & they plan to spend more on discretionary items
The average age of India's affluent is 34 years, younger than most Asia Pacific markets, and their annual household income is INR 1.5 million, a clear reflection of their predisposition towards discretionary spending, especially on luxury categories like fine dining, travel, designer clothes and jewellery, as highlighted by the Visa Affluent Study 2015 [1] .
With regard to financial management, 46% of affluent Indians prioritize increasing personal income and 95% save monthly for their discretionary spending. The survey shows that the majority of India's affluent are optimistic about the country's economic situation, with 74% believing that it will improve in the next one year. The positive sentiment is also highlighted in their outlook about their personal and household incomes, with 80% expecting their personal incomes to increase and 78% expecting their household incomes to rise, in the coming year.
Mr. T.R. Ramachandran, Group Country Manager, Visa India & South Asia, said: "According to recently published reports the total number of millionaires in India rose 26% last year to around 198,000 millionaires. The Visa Affluent Study findings reaffirm this growth and confidence which is reflected in the propensity of affluent Indians to invest more money towards the finer aspects of life. Spending time with family and investing in a good future continues to take priority. While there is also an emergence of preference for purchasing art and also a strong consciousness to think and invest for the social good of the society."
"The meaningful insight into the lifestyle, attitudes and spending behaviour of affluent Indians, helps us to understand what this demographic wants and allows us to customize our offerings to further enhance their experiences. Visa has a superior selection of benefits which are best of class and bring delight to the customers and includes categories such as fine dining, shopping and travel; that are preferred by the majority of affluents," added Mr. T.R. Ramachandran, Group Country Manager, Visa India & South Asia.
The Visa Affluent Study reflects that spending time at work occupies a major part of affluent Indians lives and they are most likely to work on weekends. Almost 8 out of 10 have worked at least one weekend during the past month.
In India, young and emerging affluent lead the way in art buying, almost two-thirds of buyers are 25-35 years of age. Art buying also skews towards the upper affluent and mostly appeals to those who seek to differentiate themselves through exclusivity or by displaying their social standing.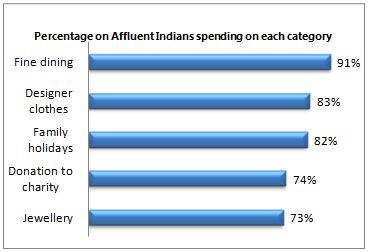 The age bracket of mid-30s for most affluent Indians manifests in their high regard for children's education. Over two-thirds of India's affluent believe that it is of utmost importance to provide children with top education, it is the highest proportion across the region. The study further reveals that four in ten affluent Indians value holistic development for their children - individual sports and music are top activities in which they are likely to enrol their kids.
The Visa Affluent Study 2015 was conducted across affluent consumers in Australia, China, Hong Kong, Indonesia, Japan, South Korea, Singapore and India.
Visa Affluent Index
The Visa Affluent Index was calculated by asking respondents whether they plan to increase or decrease their discretionary spending in the coming year compared to the previous year. The higher the score over 100, the more they think they're going to spend. This is how each country measured up.

---
| | |
| --- | --- |
| [1] | The Visa Asia Pacific Affluent Study 2015 was conducted between November and December 2014 by TNS Singapore on behalf of Visa, The study included male and female card holders between the ages 18-55 years old with a defined minimum income. In each of the eight markets, 500 interviews were conducted. The study included China, Singapore, Hong Kong, Indonesia, Japan, Korea, Australia and India. |
About Visa Inc.
Visa Inc. (NYSE: V) is a global payments technology company that connects consumers, businesses, financial institutions, and governments in more than 200 countries and territories to fast, secure and reliable electronic payments. We operate one of the world's most advanced processing networks - VisaNet - that is capable of handling more than 56,000 transaction messages a second, with fraud protection for consumers and assured payment for merchants. Visa is not a bank and does not issue cards, extend credit or set rates and fees for consumers. Visa's innovations, however, enable its financial institution customers to offer consumers more choices: pay now with debit, pay ahead of time with prepaid or pay later with credit products. For more information, please visit www.visa.co.in